LWG Announces Entrance Into the Ohio & Kentucky Big O Tires Market
Announcement for Release on: July 17th, 2020 GREENWOOD VILLAGE, CO – Leeds West Groups (LWG) has entered into an agreement with Big OKI, LLC on the acquisition of their three Big O Tires stores in the Ohio and Kentucky markets. Big OKI is a division of Eagle Finance run by Ed Reynolds out of Florence, KY. The purchase will include all three of Big OKI locations that are located in Hamilton, Ohio, Georgetown, Kentucky, and Lexington, Kentucky. LWG plans on keeping all of the team members at the locations, and is not disclosing financial details of the transaction.
This is LWG's 17thand 18thU.S. state with franchise aftermarket automotive repair locations, and now 5thBig O Tires state specifically. With the addition of the Ohio and Kentucky stores, this increases LWG's Big O Tires store holdings to 26 locations in the brand specifically, with 104 locations nationwide, and now over 1000+ team members collectively across all three franchise brands in LWG's aftermarket repair automotive division.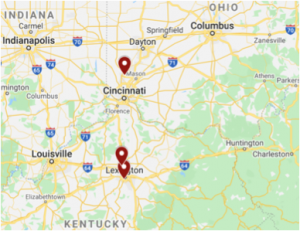 "Entering into the Ohio and Kentucky market is very exciting for LWG. It allows us to continue to create consolidation and more expansion opportunities for us in the Mid-West and Eastern region with the Big O Tires brand. As we are committed to nationwide growth across all of our automotive platforms, this deal aligns perfectly with our growth objectives and operational strengths under our COO Derek Wessels and Big O Division Vice President James Gould." – Judd Kyle Shader, CEO/Board of Directors Member
Big O Tires Ohio and Kentucky will operate under the controls of James Gould Vice President of LWG Big O Tires Division, and Derek Wessels Chief Operating Officer of LWG Automotive Divisions.
LWG will assume all ownership and control of these locations effective Saturday, August 1st.
About Leeds West Groups
Leeds West Groups (LWG) was founded in 2009 by CEO Judd Shader and is headquartered in Greenwood Village, CO. LWG is capitalized by Family Office funds that acquires, owns, and manages national automotive repair franchise brands (Midas, Big O Tires, and SpeeDee Oil) across the Continental United States including a national real-estate portfolio and outside high growth investment opportunities. LWG Board of Directors is Chaired by career finance and wall street executive Joshua Weinreich and currently employs over 1000+ team-members with 104 automotive retail locations, operating in 18 states across the Continental United States.
For more information, contact LWG Senior Marketing Manager: Hanna Jerde at Hanna.Jerde@LeedsWest.com or (720) 473 – 6676.