LWG Announces Big O Promotions
Announcement for Internal Release on: November 20th, 2018
GREENWOOD VILLAGE, CO – Leeds West Groups (LWG) is pleased to announce the promotion of James Gould to the newly created position of Director of LW Big O Tire Store Operations, reporting directly to Tim Moran, Vice President of LW East Coast and Big O Tires Store Operations. In this new role, James will oversee total operations of ten of the Big O Tire stores in the Colorado market.
James has been in the industry for 15 years, the last 6 which have been working within LWG. As a Store Manager and then a District Manager for the LW Big O Tires group, has continually improved in Top Line Sales and Gross Profit Dollars, in large part due to his unique understanding and implementation of the LWG process.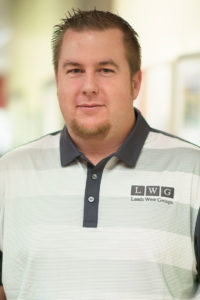 In his new role, James will continue to oversee the successful growth and profitability of the Big O Tires with the assistance of three newly promoted Senior Store Managers who will report directly to him.
Rod Murphy of Castle Pines
Bryan Peregrine of Broomfield
Dalibor "D" Dzajic of Arvada
In their new roles, these three gentlemen will manage not only their own stores, but will now oversee the profitability of several other Big O stores, focusing on Topline Sales, Gross Profit and Payroll.  They will oversee inventory control, perform Repair Order audits, onboard new employees, offer support with Account Payable discrepancies, environmental and safety compliance and overall performance within their assigned stores.
Rod Murphy will oversee the Centennial and Highlands Ranch in addition to the Castle Pines location.  Bryan Peregrine will supervise Boulder, Lakewood, and 6th Ave. in Aurora in addition to his home store in Broomfield. And D will oversee Littleton/Bowles and Chatfield in addition to his Arvada location.
Each of these gentlemen have a proven record of success and growth within the LW tire stores and will no doubt help to continue that upward trend.  James and this dynamic team will be a force not only within the LW organization, but also within the entire Big O franchise.
Congratulations to all!